Top

15

Movies/Top

10

TV Shows
of

2013
Movies:
(in no particular order)
Les Miserables. Lacking in directorial creativity, but a solid, soaring epic all the same. I would have enjoyed it more if it had thought more about the novel than the musical, drawing in some of the smaller scenes to add to character development. Anne Hathaway is stunning. Hugh Jackman has the wrong sort of voice for Valjean, but her certainly looks like a convict. Russell Crowe wasn't as bad as everyone said he was.
Warrior. I'm not a fan of sports movies, except when sports are only the medium to telling a great story. That's the case in Warrior (as in The Blind Side.) It's not really about the prize; it's about the characters. I found this film incredibly moving, and the last few scenes completely and unpredictably resolve the central tension of a rivalry between two brothers who happen to be MMA champions, pitted against one another. As a warning, it does have some rough language, but the ending strongly reminded me of Michael Card's line "Love will fight us to be found." Also loved The National's soundtrack.
The Dark Knight Rises. Despite its flaws, this movie truly evoked the eucatastrophe - at least it did for me. Tolkien's "sudden joyous turn," when the good arises, leapt up inside me whenever I heard the Batman theme surging against the background of Bane's tyranny. Based very loosely on A Tale of Two Cities (Bane knitting! Storming of the Blackgate Prison! The Tribunals! Gordon's eulogy!), its strongest points are when it sticks to that powerful source, and the divergences from the novel cause the greatest moral problems of the film. Also, Miranda Tate was just...why?
Father Brown. A surprise delight, this 1954 film is little like the original stories, but does manage to capture the whimsicality of Chesterton's detective. Alec Guinness is a wonderful Father Brown, and he and charming jewel thief Flambeau (Peter Finch) have great chemistry. Compared to the most recent adaptation of The Blue Cross, this is thankfully friendly to Christianity, and does not flagrantly betray the source material. Again, it would have profited by adapting more of Chesterton, but still quite good. Guinness captures well the foolish wisdom of Brown, and the film's simple conclusion is somehow pitch-perfect.
The Elephant Man. Somewhat predictable, and with few memorable characters besides Merrick and Treves, but still a very moving picture about what it means to be human.
Watch it here.
Adam's Apples. This one I hesitated to place on the list. Bizarre, farcical, and littered with obscenities (in Danish), there is, nevertheless, something captivating about this black comedy. Adam is a Neo-Nazi, just released from prison. He's sent to a halfway-house run by Ivan, an optimistic priest who takes blind faith to an extreme. In a play on the book of Job, Ivan is convinced he's at war with the Devil. Adam can see that Ivan is really deluded, and he is determined to convince him of the truth. This film alternates between wildly funny and shockingly dark, often within a few seconds. It's nowhere near theological orthodoxy, but as Jeffrey Overstreet says in his book Through a Screen Darkly, sometimes we need a "holy fool" to remind us of the bizarreness of truth and grace in a world that runs by the principles of brutal nature.
Watch a (clean) trailer here.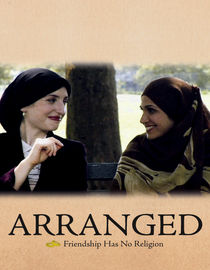 Arranged. I'd never quite realized how dramatic most actors are until I saw this movie. Every single character in Arranged felt almost disturbingly authentic - they didn't seem to know they were on camera. Despite its status as a light romantic comedy, the unusual method - arranged marriage - made for interesting viewing. Unlike most modern films, it refused to condemn arranged marriage, presenting it as a part of an honored tradition on the parts of both Muslims and Jews. It is somewhat too glowing in its representation of arranged marriage, but compared to our usually Disneyfied view of it, it's a refreshingly new perspective.
Watch it here.
Children of Men. Dark and brutal, this film is mainly on here for its Christmas spirit. Yes, I'm aware it's rated R. And I don't mean the Christmas spirit you're thinking of (probably). The Christmas spirit I'm talking about is the one where an entire town's children is slaughtered by a mad king and a trio of refugees flee across the border to an uncertain future, but bearing an indescribable hope. While falling far, far short of the book, I can understand why Alfonso Cuaron made some of the choices he made. P.D. James's original novel wouldn't have adapted well. Taking it on its own terms, it's good, though certainly not perfect.