I have a confession: any movie with Robert Downey Jr. playing an iconic kick-butt sarcastic hero I'm bound to like. Taking that into account, I was probably predisposed to like Iron Man 3, the hero's latest outing. Well, I did. In fact, on leaving the theater, I was convinced it was better than last year's worldwide blockbuster The Avengers. Wait. Don't panic. Since then, my critical faculties have snapped back into commission. While inevitably doing well in the box office, the general consensus is that Iron Man 3 is a weak when compared to Avengers. And as I realized on reflection, the general consensus is right.
There are a number of problems. Plot holes. A lack of conflict, or real obstacles. Political correctness. Tony Stark is never actually the Rescuer, but the Rescued (thus, he's not really the Hero). At one point there's an interesting dilemma put to Iron Man, but, predictably enough, he doesn't have to choose between the two options, because he can do both! No consequences, no risk—no risk, no drama—no drama, no interest—no interest, no satisfaction. It's all too easy.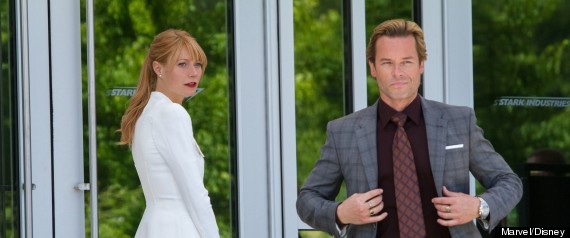 Gwyneth Paltrow as Pepper Potts; Guy Pearce as Aldrich Killian
All that you've doubtless read in other critiques. But at the same time, there are some things to be said for it.