Most of the time, sequels are a bad idea. Prequels are even worse. At best, they signal somebody's desperate for new material, at worst, they're a money grab. However, the BBC's new show
Endeavour
is a shining exception.
Long-running detective show
Inspector Morse,
starring John Thaw, ran from 1987 to 2000. Immensely popular in its day, millions followed the escapades of curmudgeonly, intellectual, melancholy Morse. Last year, for the 25
th
Anniversary, a terrific TV movie,
Endeavour,
was produced. It seems I wasn't the only one struck by the wonderful quality, because it's returned for a series. (This is the second spin-off - the other:
Inspector Lewis
, starring Thaw's sidekick Kevin Whately, started in 2007, and ended last month. Update:
nope
.)
This is that series.
I should add that even if you haven't seen an episode of Morse, it's easy to follow and stands on its own.
It relies a lot on the mythos surrounding Colin Dexter's detective, but so much is new that it's really a spin-off. There is an independent cast that doesn't require any introduction.
The first episode, Girl, came out last Sunday:
When a young secretarial student dies suddenly, Endeavour (Shaun Evans) senses there's more to the case than the preliminary medical verdict, heart attack. Now working out of Oxford's Cowley police station, Endeavour has become "bagman" to DI Fred Thursday (Roger Allam). But newly arrived Chief Superintendent Bright (Anton Lesser) has other ideas, and when a respectable doctor is found shot dead in a public lavatory, Endeavour's outlandish theories threaten his career, forcing him to investigate from the sidelines.
Through a puzzling haze of deceit and misdirection, involving an Oxford physicist who worked on the atomic bomb and the fate of a vulnerable single mother, Endeavour is forced to question Thursday's orders and risk his career to avert a family tragedy and solve a pair of violent murders.
Shaun Evans is simply stunning as Morse. At times the strength of resemblance to John Thaw is uncanny. Still, he's certainly his own man. Young Morse is less grumpy and cynical and more Sherlockian in his deductions. He is still a sucker for a pretty girl and has little respect for authority, which brings him into conflict with his boss, Inspector Thursday. And speaking of which, Roger Allam puts in another marvelous performance as the pipe-smoking, ex-military throwback to the Golden Age of detection. In a way, it feels like a rite of passage to have Morse mentored by this figure from another time. Morse, in the 80s and 90s, detected Golden Age style in a modern world, being one of the very last to do so. (Lewis has more of the procedural feel.)
Thursday is unquestionably one of the best parts of the show. His lifestyle contrasts sharply with that of the previous mentor figures: Morse and Lewis, who led melancholy bachelor lives. Thursday (so far) has a happy home life, and what's more, an interesting one, unlike Lewis's blah tossed-off comments on The-Wife-And-Kids. This refreshingly cheerful solidity is a novel thing on television, and to top it off, writer Russell Lewis says: "[T]here's a decency to characters like DI Fred Thursday. It's something that I miss about this country – that decency which seems to have been lost. One's not trying to bring it back, but we certainly touch on this inherent decency of the man." It's nice to have someone we can rely on not to have drama every week.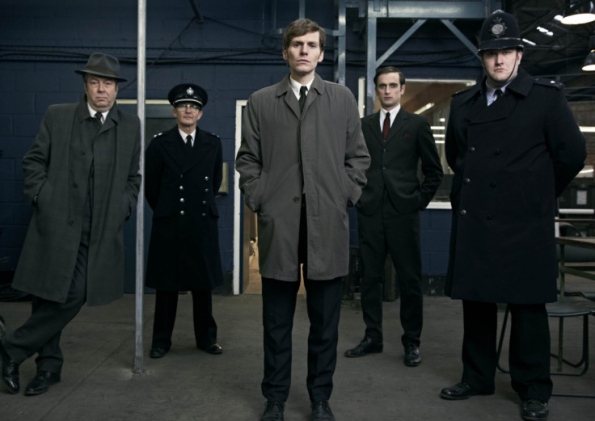 L to R: Thursday, Bright, Morse, Jakes, Strange
Speaking of old-fashioned, enter new boss, Anton Lesser as Chief Superintendent Bright. Amusingly Victorian and a stickler for rules, Bright quickly takes a dislike to Thursday's decidedly slapdash bagman: D.C. Morse. Also Girl introduces a rotund constable (Sean Rigby) named Jim Strange (old fans: yes, that Strange), who acts as a pal to Morse, and D.S. Jakes (Jack Laskey), the jerk in the office.
But to get back to this particular episode, there are several strong suspect performances, notably Sophie Stuckey as Pamela Walters, Olivia Grant as Helen Sloan, and Jonathan Hyde as Sir Edmund Sloan.
The plot, while sporting good dialogue, suffers from the same over-complexity which afflicts the later Morse and routine Lewis episodes, hovering somewhere on the edge of comprehension. The final unveiling reveals an unlikely, uncharacteristic solution. Still with a bit of suspension of disbelief, these things are bearable. Like many Morse episodes, the journey was more fun than the destination.