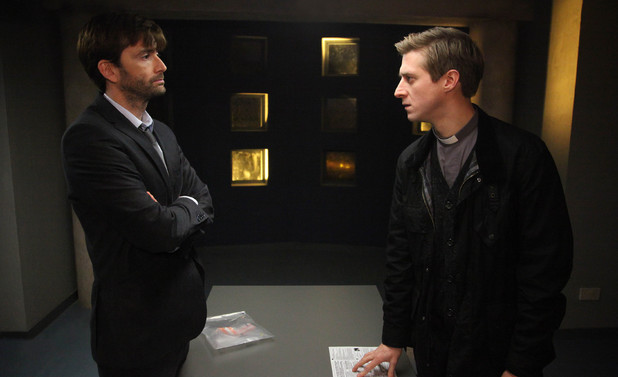 [The first of a series of posts which bind my twin loves, philosophy and TV detectives, for no reason whatsoever. Next up:

Inspector Morse: The Transcendence of Art, Sherlock Holmes - The Aragorn Complex

. Upcoming: Foyle's War and moral absolutes.]
"A solemn consideration, when I enter a great city by night, that every one of those darkly clustered houses encloses its own secret...that every beating heart in the hundreds of thousands of breasts there, is, in some of its imaginings, a secret to the heart nearest it!"
~Charles Dickens, A Tale of Two Cities
Broadchurch isn't a murder mystery. Sure, there's a whodunit at the center of the plot, but that's not really what it's about. Instead of whisking in a clever clogs London detective who then, having dispensed almost divine justice, sweeps cleanly out of the aftermath, Broadchurch places its two main characters directly in the path of the storm.
Modern fiction - much Christian fiction, as well - isn't always very good about dealing with such weighty subject matter. When grief comes, it's either ignored glibly, or embraced, as if there's nothing to be done about it. While "soft-boiled" mysteries primarily deal with justice, "hard-boiled" gritty thrillers are often hopeless and bleak. In cinema, actions are divorced from effects, and we don't have to get into the nitty-gritty of consequences. Broadchurch is all about consequences. The victim is eleven-year-old Danny Latimer, and this time, there is no looking away.
Like
many detective shows
, we have a pair of investigators wildly varying in personality, background, and method. On one hand there's grumpy, isolationist, fiercely lonely D.I. Alec Hardy (David Tennant,
Doctor Who
). On the other is D.S. Ellie Miller (Olivia Colman,
The Iron Lady
), empathetic, gracious, and happily married.

Unlike many detective shows, these two do not fall into the prescribed parts of sociopathic maverick and solid, rather dull family man (in this case family woman.) In most shows, even if the grumpy detective is unhappy and acerbic, all this adds to his attraction and odd charisma, and we don't hold it against him—as with Sherlock or Endeavour Morse. The sidekick is, by comparison, little more than comic relief with a side of loyalty, and we stay out of his or her real life.
Broadchurch avoids both pitfalls. Instead, we see that Alec's distance helps him to be a better detective, but not necessarily a better man. The remarkable David Tennant more than distances himself from his role as the Doctor (finally a ginger!), creating a likeable, if somewhat cliched, Scottish curmudgeon. His distance from humanity is not glamorized, but shown as the tragic result of accepting the evil of humanity; it's less a luxury than a necessary curse.

As for Ellie Miller...Olivia Colman is a force of nature, portraying the warmhearted Ellie as she slowly watches her home town fall apart. Her empathy is the beating heart of the series.
But while we do have our protagonists, Broadchurch's citizens are far more than just suspects, with amazing performances from (seriously) every single member of the cast. Of course, suspicion is spread around - even the actors didn't know the killer's identity until late in the four-month shoot. We get to know shop-owners and tavern-keepers, journalists and plumbers and priests and grandmothers.
Central to all this is the Latimer family. We watch them deal with grief in real time. Particularly good is Beth Latimer (Jodie Whittaker, Cranford), who, like Olivia Colman, takes our emotions through the gamut as the series progresses, though her husband, Mark Latimer (Andrew Buchan, Garrow's Law) is also terrific.
There are other consequences, as grief is only one ill plaguing the small tourist center on Britain's South West shores. Sin of many varieties lurks in what seems an idyllic village, but as

the WORLD review

pointed out, in Broadchurch we see the aftermath, not the act, and this "focus on the fallout of sinful choices rather than sin itself makes it far more true-to-life than many 'gritty' dramas praised for their realism. After all, the pain of wickedness usually lasts exponentially longer than the pleasure, though TV producers tend to show the inverse."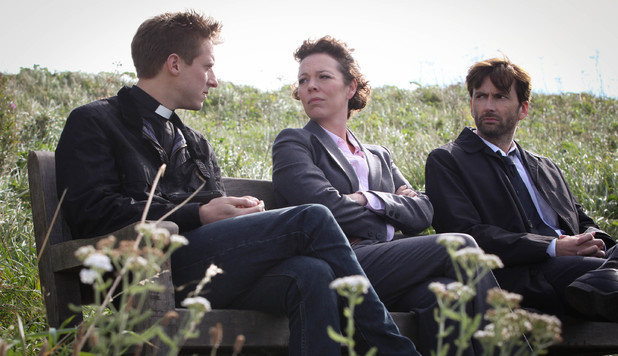 This example of the loose standards of an increasingly secularized modern Britain may make some Christians uncomfortable, but along with its portrayal of the negative consequences of these actions, Broadchurch also shows us a glimpse of hope in the character of a young reverend, Paul Coates (Arthur Darvill, Doctor Who.) I won't say more, but this spiritual angle turns an already compelling story into something extraordinary. Here is a portrayal of a vicar as a human being, not a caricature, as he displays an earnest, biblical response to the murder's effects in his community. For we "do not grieve like the rest of mankind, who have no hope." (1. Thes. 4:13, NIV) In th
e end,
Broadchurch
presents a powerful example of the Gospel's healing power.
That's not to say Broadchurch is a theological treatise (read: boring) - it does adhere to a certain format, and the hunt for the killer is an integral part of the story. It's hard not to get caught up in revelations of the town's secrets (really, a few too many to be believable, but everyone must have a motive). Still, the emphasis is not so much on the investigation as the effects of the murder throughout the town, and the media circus which flocks to the kill. It is brutally realistic in its portrayal of the ravages of our tabloid culture, as we clamor for each salacious detail, and are quick to paint a blacker picture than truly exists. As a character points out, "You wanted easy answers, and scapegoats, and bogeymen. The world's more grey." [Nonspecific spoilers below]


When the ending finally did come, I found myself just as guilty as the journalists

(for more of my thoughts on that

see here

)

- I had wanted the killer to be, frankly, someone that I hadn't come to know, someone safe and easy to hate, a stranger or a Moriarty. I wanted a good thrilling shoot-em-up finale. I wanted the illusive bonds of intimacy to be real, and for human beings to really be worthy of trust. But it isn't much of a spoiler that Broadchurch, quite rightly, refuses to settle for "easy answers." Ephesians 2:8-9 remains true, and sometimes we need to be brought face to face with death and the truths it unveils to realize that.
"For by grace you have been saved through faith. And this is not your own doing; it is the gift of God, not a result of works, so that no one may boast." (ESV)
Through dark and light I fight to be
So close
Shadows and lies mask you from me
So close
Bath my skin, the darkness within
So close
The war of our lives no one can win

The missing piece I yearn to find
So close
Please clear the anguish from my mind
So close
But when truth of you comes clear
So close
I wish my life had never come here
So close
Through dark and light I fight to be
So close
Shadows and lies mask you from me
~Olafur Arnalds, "So Close"

The episodes sometimes vary in quality, and the story could probably have been abridged, but overall this show is phenomenal. The music is haunting, it's beautifully shot, it has a glorious ensemble cast and an atmospheric setting.
I review the American remake, Gracepoint, here.
And
the second season of Broadchurch here.
Longish