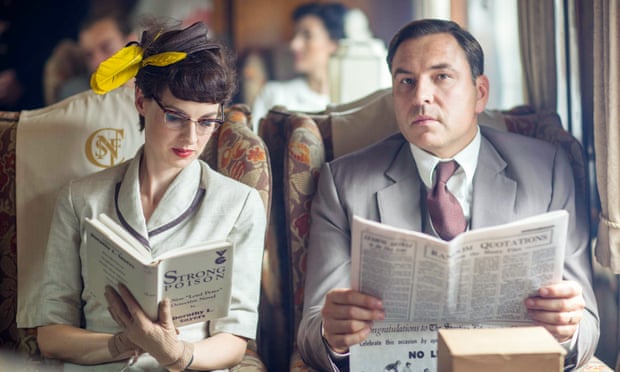 For detective aficionados, the long summer is relatively bare. The beginning of the year saw
Broadchurch
and
Foyle's War
come and go, and all the other major dramas -
Endeavour, Lewis, Sherlock
- await a Winter release. Into this void drops the latest Agatha Christie adaptation,
Partners in Crime
, starring comedian David Walliams and
Call the Midwife
's Jessica Raine as gumshoe couple Tommy and Tuppence Beresford.
How does it do? Being familiar with the 80's version (starring Francesca Annis and James Warwick), I found it somewhat of a mixed bag. Partners in Crime certainly looks good - compared to the original's terrible video and sound quality, this is practically Hollywood. On the other hand, the cast never feels quite at home - only the eccentric spy handler, Carter (James Fleet), really seems to know what he's doing.
Married couple Tommy and Tuppence are returning from France when they encounter Jane Finn, a mysterious young woman who keeps glancing over her shoulder. While Tommy is occupied protecting his queen bee (beekeeping is the latest in a series of failed financial ventures), Tuppence notices Jane's agitation, and when the young woman disappears in the aftermath of a murder, Tuppence is determined to track her down. This determination leads her into a seedy gambling den. While Tommy is off trying to talk his uncle (who's involved in something "hush-hush") into giving him a job, Tuppence stupidly reveals her true colors, is threatened by a vicious gangster, and summarily thrown out on her ear.
This sparks much melodramatic Cold War tension, but it does tend to puncture the essential air of fun. It's a genuinely frightening scene, and casts a pall over the otherwise entertaining chase sequence that follows. And let's be honest, even the smallest bit of realism in a story about two civilians who accidentally become spies rather upsets the suspension of disbelief. Yet spies they do become, when they turn to Tommy's uncle, who, realizing they know too much, has no choice but to appoint them secret agents. "A secret assassin…a missing girl…a communist plot," Tuppence enthuses. "Don't you think we were born for this kind of thing?"
Are they? I wonder, because another thing that requires suspension of disbelief is the idea that Tommy and Tuppence ever got married in the first place. Tommy is a clumsy house husband, ineffectually trying to support his family. He's out of place in his own generation, being hit by a delivery van before he could even reach boot camp, much less head off to Europe or the Pacific. Jessica Raine's Tuppence spends much of their shared screentime sighing at Tommy's awkwardness. She has a modicum of adventurousness, but it does little to overcome this essential lack of chemistry between the two. The puzzling thing is that both actors do well separately, but just can't make it work together.
It's difficult not to compare them to
Annis and Warwick
. Annis sparkled with impish charm, and Warwick provided a dry, laid-back foil to his bohemian wife. Obviously, converting the characters from 1920s bright young things to a post-war middle-aged couple alters the tone, but it needn't have altered the bond itself. (Admittedly, I've just finished watching half a dozen classic Hollywood romances, from
It Happened One Night
to
His Girl Friday
, so my expectations may be unfairly high.)
All that said, it's easy to see how all of these flaws could be ironed out as the production progresses. Tommy and Tuppence will probably grow in both efficiency and affection as they chase villains together, and their adventures will hopefully stick to the pulp fiction
Indiana Jones
feel (I refer Tuppence to
Adele Blanc-Sec
). The show offers an entertaining light-boiled alternative to TV's usual grimmer fare, and enjoys itself most with its flamboyant side characters. If the pacing is a bit choppy, it generally keeps things moving swiftly, and ends on a superb cliffhanger. I'm willing to give it a chance.