This is older information -
check out the latest here.
It's a truth universally acknowledged that if one is a British actor of mature years, it is pretty much inevitable that one will play a detective on the telly. This is the case for Martin Clunes, who is best known for playing the irascible title character in
Doc Martin
, and who is now, at last, taking up the magnifying glass to do a bit of investigating.
Sir Arthur Conan Doyle (Clunes) is best-known as the creator of Sherlock Holmes and Doctor Watson, but he was also quite a sleuth himself. In 1903, Anglo-Indian solicitor George Edalji was arrested and jailed for a series of brutal attacks on animals. Three years later he was released, but the taint of the crime remained. He enlisted Sir Arthur Conan Doyle, who, after Kipling, was Britain's most famous author - to help clear his name. Along with his loyal secretary, Alfred Wood, Sir Arthur traipsed around the countryside, using his powers of deduction to track down the truth.
It's currently airing in the U.K., and I've found it a pleasant enough diversion while waiting on the hard stuff (I also appreciated the cameo by E.W. Hornung, Conan Doyle's brother-in-law and creator of
one of my favorite fictional con-men
). It will be released
by PBS in the U.S
later in 2015.
Inspector George Gently
still waits in the eaves. (Update: it's now been released in Britain: here's
my review
.) We know filming has wrapped, but there's no word on a release date as of yet.
The first film, Do Not Go Gently, finds Gently investigating a rape of a prostitute. Unravelling how rape is handled within the force and how many recent cases had actually resulted in charges being laid, the team have to deal with animosity from their colleagues.
In the second film, Breathe The Air, an investigation into a GP's suspected suicide, see Rachel Coles (Lisa McGrillis) returning to the small village community that she grew up in, which stirs up tragic memories – and the "white snow" they used to play in as children.
Episode three has the Wildcat riots as its backdrop, where rubbish is piling on the streets and a man is found dead. The victim was in a lot of debt – but who killed him and why? Episode four finds Gently furious that guns are so easily accessible - and following an armed robbery he seeks to find the armed gang and bring them to justice, before more innocent people are shot.
None of that is new, but I hadn't seen this (which I find terrific):
As I was saying about older British gentleman, here's Ian McKellan as Sherlock Holmes.
We've seen a number of Holmes pastiches in recent years, but it makes for a welcome change to see a more traditional version. True, it takes Holmes out of his natural time and place, but not so far as modern London or Guy Ritchie land. In this story, a 93-year-old Holmes lives in Sussex raising bees (which is, by the way,
canon
). It's 1947 (this puts Holmes's birth date in 1854, which is indeed the commonly accepted date among Sherlockians - good scholarship, movie), and he has been reflecting on his life, and in particular, on an old case. He's just returned from a trip to Japan, where he saw the effects of death on a more massive scale than the drawing room.
The film will be released on June 19 in the U.K. and July 17 in the U.S. It also stars Milo Parker as Holmes's young friend, Roger, Laura Linney, Hattie Morahan (
Arthur and George
), Patrick Kennedy (
Bleak House
), Roger Allam (
Endeavour
), Phil Davis (
Sherlock
), Hiroyuki Sanada (
Murder on D Street
), Frances de la Tour (
Agatha Christie's Poirot
), Madeleine Worrall (
Foyle's War
), Michael Culkin (
Father Brown
), Sarah Crowden (
A Dorothy L. Sayers Mystery
), John Sessions (
New Tricks
) as Mycroft Holmes and Colin Starkey (
Inspector Lewis
) as Dr. Watson.
Holmes will obviously be dealing with a very hardened group of criminals.
Clip:
U.S. Trailer:


U.K. Trailer: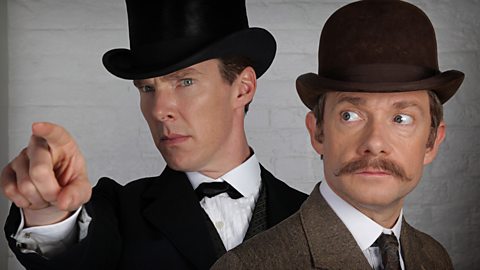 It's old news that
Sherlock
will be returning for a Christmas special and a three-episode season. The special, has, however,
finished principal photography
last month, so perhaps we can still hope for a December 2015 release.
Unlike previous series of the show that have largely filmed in Wales while based in Cardiff, the special has been based in and around Bristol, operating from the Bottle Yard Studios complex in the city.
While still largely shrouded in mystery, Hartswood Films have revealed that the special is Victorian in nature, rather than the usual modern day setting - the how and the why of this unexpected change in time period will be revealed in due course…
The special will now enter post-production. No airdate has been set for the episode, but it is widely expected to air in the 2015 Christmas season in the UK, with other territories to follow.
Filming on Sherlock Series 4 is set to follow in the future.
My reviews of
Sherlock
:
Season 3 -
Episode 1 - The Empty Hearse
Episode 2 - The Sign of Three
Episode 3 - His Last Vow
Endeavour
is even further off. Given conflicting schedules, Shaun Evans has said that they're
hoping for a January 2016 release
. The rumor is that shooting starts late spring, and Roger Allam will be returning (duh.)
Endeavour '67... Pepper – Piper – Purple Haze... As 'Oxford's finest' encounter friends and foes both old and new, our next quartet of mysteries will take the audience on a psychedelic Summer of Love fairground ride, filled with twists and turns, shrieks and scares. For something wicked this way comes...
My reviews of Endeavour:
Season 1 -
Episode 1 - Girl
Episode 2 - Fugue
Episode 3 - Rocket
Episode 4 - Home
Season 2 -
Episode 1 - Trove
Episode 2 - Nocturne
Episode 3 - Sway
Episode 4 - Neverland
Luther
, the pulpy, action-packed thriller starring Idris Elba, will be returning for a fourth season in the form of a two-part miniseries. It takes up with the ever-beleaguered D.C.I. John Luther after the death of a friend. This news is in addition to the announcement that
Fox will be doing an American remake
. Filming has started, and plans are for a late 2015 release.
Luther's back. Pitted against his most chilling adversary yet, haunted by the ghosts of his past and hell-bent on retribution, he's drawn into a terrifyingly complex case that pushes him closer to the edge than he's ever been.
The six-part miniseries
Partners in Crime
is due to air in late 2015. It stars Agatha Christie's
other
crime fighters, Tommy and Tuppence Beresford, portrayed respectively by David Walliams and Jessica Raines.
Partners in Crime is an adventure series with espionage and humour at its heart. Set in a 1950s Britain rising from the ashes of the Blitz into the grip of a new Cold War, our bee-keeping duo stumble into a world of murder, undercover agents and cold war conspiracy. Tuppence is a woman who sees adventure round every corner, throwing herself head first into every mystery with passion and fervour, determined to get to the truth no matter what it takes, much to the dismay of her more cautious husband Tommy.
Additionally, a new three-part miniseries of
And Then There Were None
is
slated for this Christmas
, to be written by Sarah Phelps (
Great Expectations
).
Crime-solving sleuth Sidney Chambers will be back for a second season of
Grantchester
. It's set to begin filming
later this year.
One of the most surprising items on this list is a reboot of Georges Simenon's French detective, Maigret, starring...wait for it...Rowan Atkinson. There will be two TV movies -
Maigret Sets a Trap
and
Maigret's Dead Man
- which are set in 1950s Paris, and will begin filming this September.
After a brief moment of shock, I decided could kind of see this working. Simenon's burly, working class sleuth was last played by a superb
Michael Gambon in the 90s
, but while the slim Atkinson seems more posh, I could see him - the older, grey-haired him - playing a hard-bitten cop fairly easily (I'd still prefer Roger Allam, but he's basically already playing Maigret in
Endeavour
). It seems like Atkinson is trying to reinvent himself, as he's also slated to play Mr. Micawber in an upcoming adaptation of
David Copperfield
. And again, what I was saying about older British actor.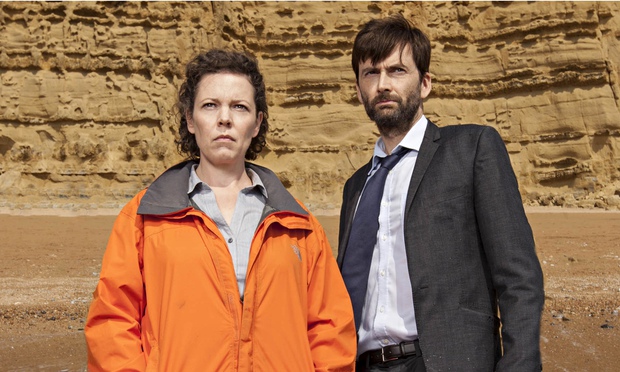 Broadchurch,
which is currently airing its second season in the U.S.,
will be returning for a third (final?) season. Given the series' infamous secrecy, nothing has been revealed as of yet. It's safe to assume it will not be airing this year. A French remake,
Malaterra
, is also in the works.
My reviews of
Broadchurch
:
Season 1
Season 2 -
Episode 1
Episode 2
Episode 3
Episode 4
Episode 5
Episode 6
Episode 7
Episode 8
One last thing - how in the world did I not know that
Ridley Scott wants to remake Murder on the Orient Express
? True, there's been nothing said about that since 2013, but this is big mystery news. I would say, however, that I find it mystifying. Unless he gets David Suchet, there's not much point, and Suchet has already done an exemplary TV version.
Longish