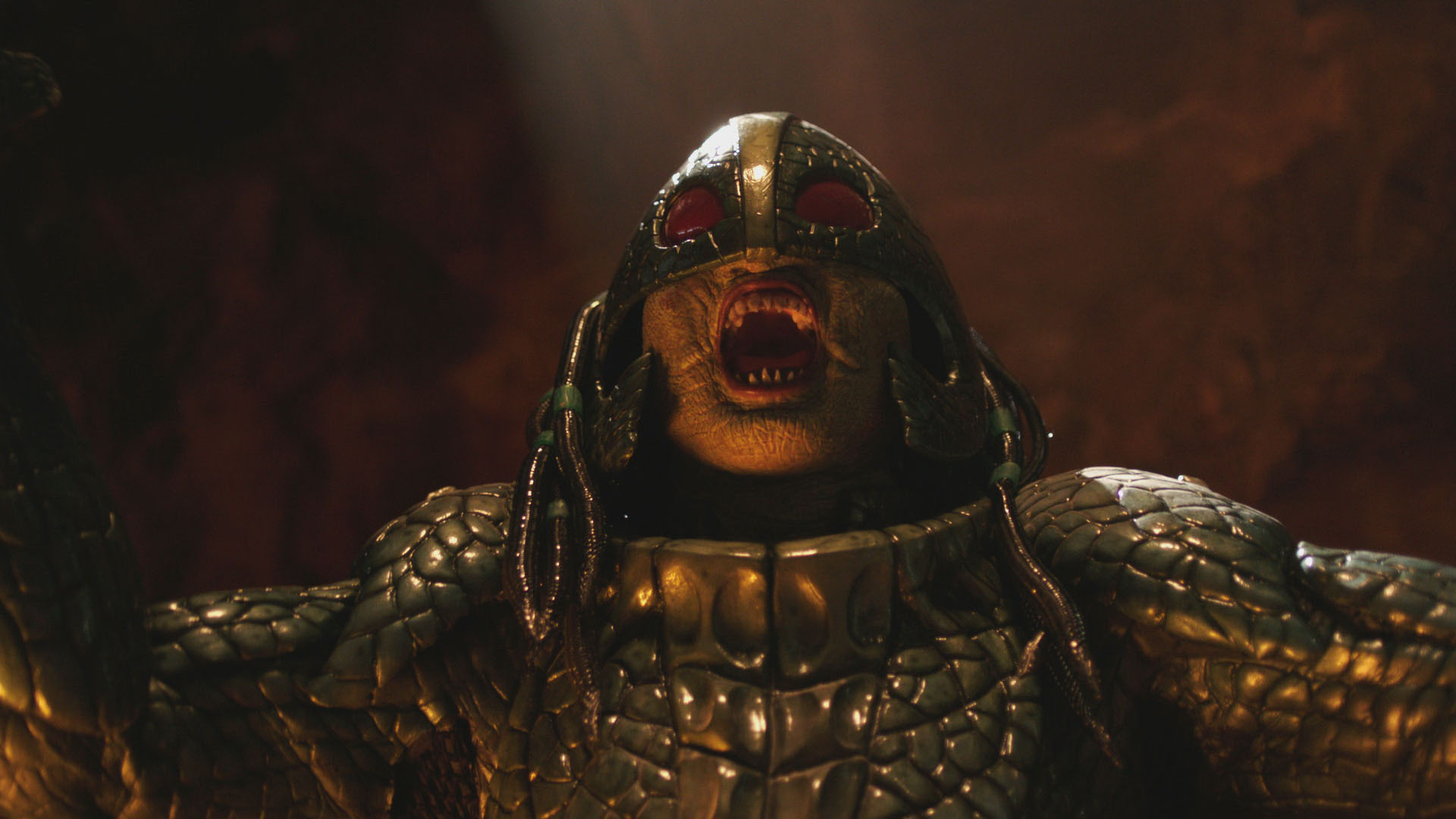 My review of the previous episode: The Lie of the Land.
To be one of New Who's longest-serving writers, Mark Gatiss really isn't all that impressive. He's turned in the occasional good episode(
The Unquiet Dead
is good, and I have an irrational soft spot for
Robin of Sherwood)
, but most of his installments are just mediocre or genuinely bad (
Sleep No More
, I'm looking at you).
Empress of Mars
is a pretty basic Gatiss episode, in that it's just...there.
After a brief trip to NASA, the Doctor, Bill, and Nardole, travel to Mars to investigate the origin of an extraterrestrial message (wibbly wobbly, timey wimey: it turns out they wrote it in the first place). When they arrive, they find a brigade of Victorian redcoats, who hitched a ride with a servile Ice Warrior they've nicknamed Friday (it makes me a bit sad that this reference has to be explained - but we get a painfully cheesy
Frozen
reference instead).
There are plenty of pop culture references here, from the overt ones (
The Terminator
,
The Vikings
, and
Frozen
) to the more subtle bits (there's an Aladdin's cave vibe when British Soldier #2 steals the gem, and then there's "I have a bad feeling about this" and an admittedly gutsy callback with "Sleep no more, my warriors"). Bill's genre-savvy ways are back, and even the Doctor says, "All quiet. It's traditional at this point to say:
too
quiet."
The gang find the Victorians poncing about Mars, being all colonial and whatnot, but it turns out Friday's real purpose is to awaken the rest of the Ice Warriors, who will, the Doctor predicts, wipe the floor with the redcoats faster than they can say poppycock.
The Victorians' response to this is, of course,
poppycock
, combined with some dithering from their leader, who was a deserter looking for a second chance. It's an interesting dilemma - the Doctor warns the humans about the aliens, but they don't listen. Now, usually, he's willing to protect said humans anyway, but will he protect humans as buffoonish, greedy, and callow as these? Well, yeah, he's the Doctor.
But ultimately, he just sort of hovers around like a mother hen, making a half-hearted (one-hearted?) rescue attempt and watching as the humans sort it out themselves, with a well-placed bullet and then a surrender.
Huh?
A straight-up, point-blank execution is a bit grim for the most pacifist show on TV, and I'm not exactly sure the sudden, unforeseen redemption of
Colonel Fitzwilliam
(I honestly don't remember his real name) is all that convincing. But it works okay, I suppose. I just wish there were some more substantial contributions from our main characters, who have limited time left in the season to develop.
One of the good things about the first three episodes is that while they were standalones, they all drove along the characters' relationships. I'm not sure how this episode effects the arc of Bill, the Doctor, or their friendship. Apparently, the only major arc it influences is...Missy's? Look, the best thing about Missy is she's delightfully evil. I'm not sure I need a sensitive, helpful Missy. And her question about the state of the Doctor is just...weird. But it does seem to confirm a theory that I'll have some more thoughts on in my review of the next episode.
My review of next week's episode: The Eaters of Light.
Longish