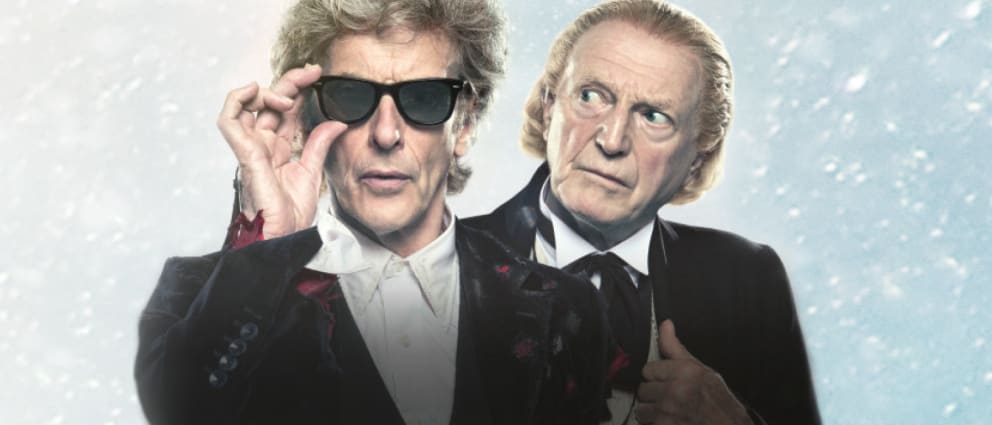 [SPOILERS]
My review of the previous episode: The Doctor Falls.
I feel like if you looked up the definition of placeholder in the dictionary, this episode would be right there.
That's not entirely anyone's fault. Steven Moffat always intended Peter Capaldi to regenerate at the end of series 10, but when incoming showrunner Chris Chibnall refused to start off on a Christmas episode, it was left to Moffat to come up with some reason for Peter Capaldi to stick around for an episode.
As it is, he pulls a few good moments together and coats the rest in sentimentality and a boatload of nostalgia. That's always an enjoyable experience, I guess, if you shut your brain off. If there's anything clear at the end, it's that
Doctor Who
is desperately in need of new ideas, and Steven Moffat is out of gas.
Here's the plot: we meet a villain; the gang flee to meet a
random minor character
from a mediocre early Capaldi episode; the Doctor finds out that the villains are actually benevolent. The Doctors regenerate.
The end.
The only real conflict in this episode is whether the Doctors will choose to regenerate. Much of the story's humor comes from the First Doctor's shock at seeing what he will become - an intergalactic superhero with a big mouth and a flashy TARDIS. The First Doctor doesn't want to continue because he wants to remain himself, to maintain control over his destiny. His case for this sounds a great deal like the death with dignity argument, and gives the story's aspirational glance at his future an
It's a Wonderful Life
vibe.
Ultimately, he finds that inspiration by seeing his future self save one life, messing with time a bit so an iconic Christmas moment can save the day. Bill's claim that the Doctor holds the universe together is a little overblown (that's a case of mistaken identity - Christmas isn't about the Doctor, y'know, but it is about
someone
). While this trick worked in
Day of the Doctor
, saving just one human and spouting platitudes about music isn't powerful enough to really pull off the character development for either character.
*Steven Moffat materializes in a time machine called the RETCON (Rewriting Every Thing Connecting Overarching Narrative)*
"But he's the Brig's granddad."
*dematerializes*
Well...okay, that's not a bad argument.
In the end, the Twelfth Doctor, too, accepts his role in the universe. But it's a dull, half-hearted acceptance. He knows all of his companions are dead or Nardole, which is a pretty depressing reality. He's just got to keep going. It's valiant, but in a small, grim way - anti-climactic after the dramatic finale to series 10.
That's strange for an episode which is generally very upbeat. Peter Capaldi is living his fanboy dream. Bill brings her fun energy to the story, but it's still cheap to bring her back and not give her a character arc. All she does is react to the Doctors. (Now
that
is sexist.)
David Bradley is enjoyable as the First Doctor. He's clearly having a great time, playing the straight man to Capaldi's goofiness and employing a little of the First Doctor's naughty sexism (it wasn't that ubiquitous, but yeah, it was that hilariously bad). He doesn't work, though, largely because you simply can't recast the Doctor with another actor. The Doctor's not a part; he's an actor. (I'm going to write more about that).
Doctor Who
hasn't done regeneration stories well in a long time (nothing matches the final 25 minutes of 1969's
The War Games
if you ask me), but I usually find the actual moment of regeneration emotional. Not so here. The story didn't have any momentum and deleting the villains removed any actual stakes, so the actual tension of the change, and the dread inevitability that permeated the final moments of Nine, Ten (if you skip that horrid 30-minute epilogue as I do), and Eleven's regenerations is missing. Moffat is on total auto-pilot. He's barely trying.
The whole episode is a raving self-indulgent mess, with Capaldi soliloquizing to his heart's content. I'm puzzled to read all the reviews delighted with the story's emotion - it's nothing
but
emotion, which is the problem! Capaldi delivers a long string of inspiration-poster-quotes and then explodes in a scene almost identical to the ending of
The Doctor Falls
. It's horrible and sad, because Capaldi deserved better. Moffat's written damn good speeches for
Doctor Who
before. This wasn't one of them. It's almost entirely recycled Capaldi Biggest Hits. It's like Moffat knew Capaldi had to have a final speech, so he pulled some stuff from the archives and perfunctorily stuck it in a blender. It really needs an editor.
And doesn't that just sum it up? Poor Steven Moffat. He needed an editor.
Closing Thoughts on the Moffat Era
But you know what? It's the end of an era. So let's not end on that note. Because, despite this trainwreck of an episode, Steven Moffat is one of the best writers the show has ever had. He was consistently the best writer in the Davies era, and has delivered some of the show's most beautiful and compelling stories in his own era. He's a truly brilliant writer, and has been a gift to the series. His failures as a showrunner have been numerous, but he also gave us Matt Smith's brilliant Doctor, and 7 out of my top 10 New Who episodes are Moffat episodes (
The Empty Child, Silence in the Library, The Eleventh Hour, A Christmas Carol, The Girl in the Fireplace, Heaven Sent.
)
The final Jodie Whittaker scene, showing almost nothing of her character (unlike the best of these scenes) and recycling the Matt Smith exploding TARDIS sequence doesn't make me optimistic about Chris Chibnall. The show needs new ideas - the only new idea he's shown is
what if...the Doctor...was a woman!
And that won't carry the show.
Shout out to Murray Gold. Rumor is he won't be returning for series 11, which is sad. He's really grown immensely as a composer. It's mind-blowing that the man who composed this
dorky sci-fi music
also composed this
Beethoven-esque virtuoso score.
As for Capaldi, he was a rough sell for me. I despised his first season, and he only partially won me over in series 9. But he's had some incredibly fine moments, and his mellower self's dorky optimism never fails to get to me. He's fully given himself to the part and it's admirable.
Here are my top 5 Capaldi moments. (My top 5 episodes? From worst to best:
Listen. Robin of Sherwood. Mummy on the Orient Express. The Husbands of River Song. Heaven Sent.
)
5. The moment I decided
yep, okay, he's the Doctor.
4. What
should
have been Capaldi's final speech, from
The Doctor Falls.
3. I love all of
The Husbands of River Song
, but there are two standout moments, so I'm going to cheat and include both. The first is a lovely, moving ending to the River Song saga. And then Peter Capaldi's funniest moment in the series.
2. Going to cheat again and say all of
Heaven Sent
, which is really one long Capaldi moment.
1. An obvious choice, but Capaldi really does it all here. He has to sell the idea that he's persuading a stone-cold terrorist to step down. He does it flawlessly. He's a force of nature.
Doctor, I let you go.
Longish