Marquis de Lafayette, Hercules Mulligan, John Laurens, and Alexander Hamilton
You've probably heard about
Hamilton
in some form or another. A musical, its opening number was performed at the Grammys, for the Obamas at the White House, and the show in its entirety is performed every week on Broadway. It's ridiculously hard to get tickets, but you can still enjoy the story from the cast album: this article is a how-to on getting started.
First of all, what is it?
Hamilton
is the story of the founding father, Alexander Hamilton, told through rap music. Sounds ridiculous, you say - but believe it or not, hip hop is a perfect medium to tell the story of America's youngest founder.
A poor immigrant from the West Indies, Hamilton was the illegitimate son of a penniless nobleman. The musical's first line is deliberately provocative, but also a fairly accurate description of the man: "a bastard orphan, son of a whore, and a Scotsman, born in the middle of a forgotten spot in the Caribbean, by Providence impoverished, in squalor." His career saw a meteoric rise to the top, culminating in disaster, the first sex scandal in American politics, and ultimately, violent death by the hand of his friend, Aaron Burr.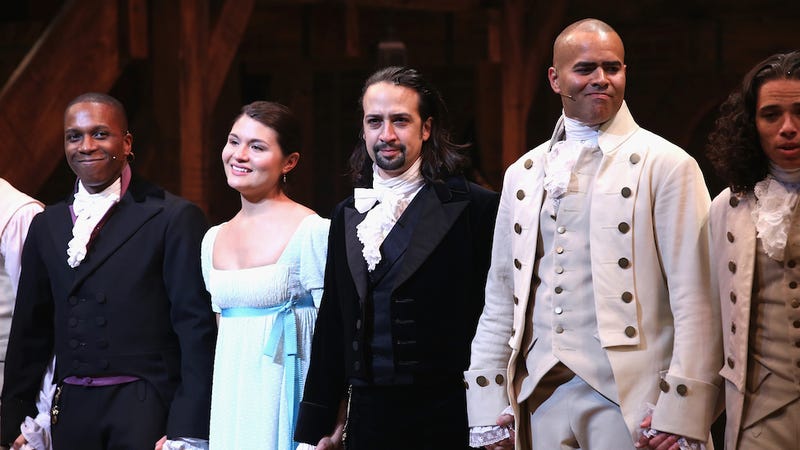 Aaron Burr, Eliza Schuyler Hamilton, Alexander Hamilton, George Washington, and John Laurens
Like many hip hop artists, Hamilton wrote his way out of poverty, and had a fierce, violent streak that manifested itself in dreams of martyrdom. The aggression and high stakes of rap perfectly capture his ambition and competitive spirit. But that's not the only tone of Hamilton's life, and it's not the only tone in the musical - a kaleidoscope of styles reflect each character and moment. Hamilton and his best friends Lafayette, John Laurens, and Hercules Mulligan may live on the revolutionary edge, but the dignified Washington and sincere Eliza Hamilton trend far more traditional. Thomas Jefferson, a flamboyant elitist, prefers jazz, while King George III sounds like a British pop star.
Alexander Hamilton and King George III
Why would
you
like it? Well, if you like any of the things I list below, it has them in abundance:
1. Hip hop
- This is the defining style of the story, and there are tons of
hip hop references
which I do not get, but you might.
2. History
- I'm a hundred pages into Ron Chernow's biography of Hamilton, and I can attest: writer Lin-Manuel Miranda did his research.
3. Musical theater
- You'll notice nods to
Pirates of Penzance and South Pacific
.
4. Melodrama
- Intermixing power, politics, betrayal, romance, and religion, this story is every bit the equal of great epics like
Les Miserables.
5. The Bible
- It's incredibly
biblically literate
, and the central emotional storyline revolves around an "unimaginable" act of "grace too powerful to name."
6. America
- This story really captures what's special about America and its founding in a way few stories do. In the era of Trump, this musical is a wonderful reminder of what it's all about.
So, without further ado, here's an introduction to the story. For those of you who, like me, thought you could never like rap, watch the next two videos linked - otherwise, jump right in with the opening number below.
Here's a bit
about the history of Hamilton - both the man and the play -
and here's Lin-Manuel Miranda
- who is charming and hilarious and both wrote and stars in the musical - having some fun with Jimmy Fallon. More than anything, that video helped me start appreciating the rhythm, inventiveness, and eloquence of rap.
Now, for the musical.
The opening number summarizes Hamilton's rise to the top, and this video does a good job of differentiating the voices, so it's a good idea to watch. Like Judas in
Jesus Christ Superstar
, Aaron Burr is the narrator.
Next up, here's Hamilton's first big moment, meeting his new friends and enemy, Aaron Burr:
We roll like Moses, claimin' our promised land
And? If we win our independence?
Is that a guarantee of freedom for our descendants?
Or will the blood we shed begin an endless
Cycle of vengeance and death with no defendants?
Boy, that's a question for our times, isn't it?
Moving on, some more traditional moments. Aaron Burr's first big showstopper is
Wait For It
, in which he explains his philosophy (this was also the first song that really got stuck in my head):
And King George III's hilarious break-up song to America (no really):
You say
the price of my love's not a price that you're willing to pay
You cry
in your tea which you hurl in the sea when you see me go by
And George Washington singing about the importance of giving up power (contrasting with Aaron Burr's big villainous number,
The Room Where It Happens,
in which he laments his inability to attain power):
And lastly, one from the ladies. I debated whether to go with
Satisfied
(a complex, rousing ballad, the emotional equivalent to Eponine's
On My Own
) or some of the other fun stuff, but I'm a sucker for a good tearjerker and
Burn
is the
I Dreamed a Dream
of the show, as Eliza Hamilton reacts to her husband's infidelity:
Finally, listen to the cast album. Keep an eye on Wikipedia to understand the context (it's sung-through, so all the information's in the lyrics, but there's a lot to digest) - and let the story draw you into the music. I'm a convert, and, as you can see, a fervent evangelist.
Hamilton
is a truly great piece of art, and thoroughly worth your time.
[A warning for parents: there is brief hard language and mature situations - particularly in
Yorktown, Say No to This,
and
The Adams Administration
- listen accordingly.]
Longish