If I'm still writing at the age of 90, I will die happy. I hope P.D. James did, anyway.
One thing is for certain: no one could have predicted her life would have ended here, as a world-wide respected author. At the age of 16, she left school to help support the family - her father didn't believe in higher education for women. Throughout her lifetime, she worked in a tax office, as a stage manager, as a member of a hospital board and at the Home Office in the forensic science and criminal law departments. When her husband was sent to a mental institution after World War II, she became primary breadwinner for their two daughters.
She started to write detective novels in the 50's, and her first book Cover Her Face, was published in 1962. While it received favorable reviews, it took until 1980, with Innocent Blood (my favorite) for her career to skyrocket. After that, she seldom wavered from the adventures of her poet-detective, Adam Dalgliesh. One notable exception was The Children of Men, a fascinating religiopolitical dystopia built on the premise of an ingenious question: What if mankind stopped bearing children? In 2006, it was made into a movie, directed by Alfonso Cuar

ó

n (we'll be reviewing it this week on The Pilgrim's Podcast.) In 1991, Queen Elizabeth made James a Conservative peeress: Baroness James of Holland Park.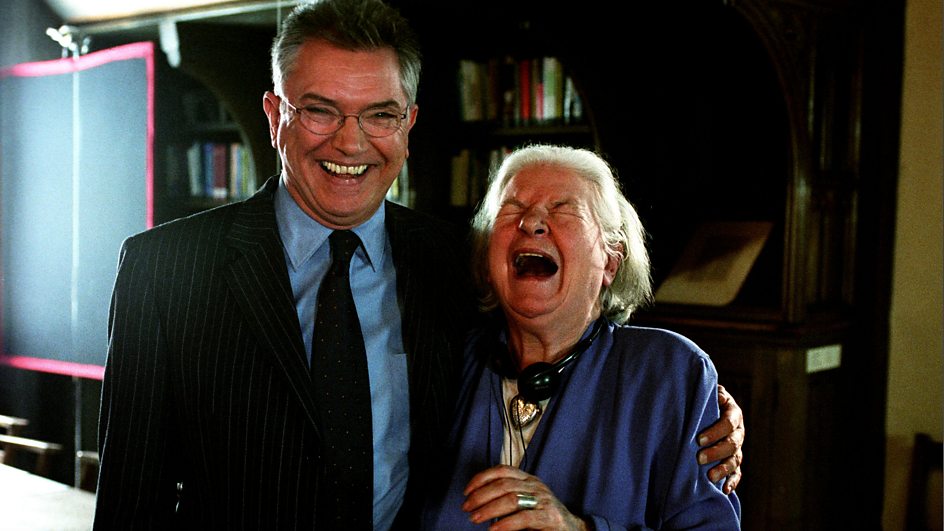 James with Martin Shaw, who portrayed her detective Adam Dalgliesh on television
James was more like Dorothy Sayers than Agatha Christie, in that she found more interest in her suspects than the wicked intricacies of a master crime. Often taking place in a small, enclosed community, her mysteries rarely involve
a
psychopath; her killers are
much more often a frightened, middle class, and ordinary.
She wrote with great restraint and an uncommon elegance of prose that has always inspired me (and that, as I get further and further into this awkward paragraph, I feel hopeless of imitating). Her personality was characterized by an eloquence, reserve, and no-nonsense conviction inherited from Victorianism, a time when the sun never set on the British empire (last August, James was one of 200 to sign a letter to The Guardian opposing Scottish independence).
Certainly, some of this moral clarity stemmed from her faith. An Anglican, several of her books drew their titles from religious sources. She did not intend for The Children of Men to be a explicitly religious, but
"At the end of it, I realized I had written a Christian fable. It was quite a traumatic book to write." (For more on that, check out her interview on Episode 11 of Audition, a Christian podcast.)
Ultimately, she found detective fiction comforting:
"I love the idea of bringing order out of disorder which is what the mystery is about. I like the way in which it affirms the sanity of human life and exorcises irrational guilts." There may be a better defense of my favorite genre, but I have yet to hear it.
Longish